The highlights of 2021 in review – an eventful year for Sandvik Additive Manufacturing
Another year is coming to an end, and it's high time to summarize the highlights. At long last, the world got to see some relief from the pandemic – and even though we're yet again facing headwind, it was a true delight being able to meet with so many of you again. Let's have a closer look at some of the key events for Sandvik Additive Manufacturing and our growing additive family throughout the year!
Increased manufacturing capacity in metal powders for AM
During 2021, we have continued to invest in metal powder capacity for additive manufacturing (AM) by installing two additional atomization towers at our production site in Neath, U.K. This expansion follows a recent investment in a new plant for the manufacturing of titanium and nickel-based alloys for AM, in Sandviken, Sweden.
Further reinforcements in our powder sales team
To reflect the increasing demand for premium metal powders, we have reinforced our powder sales workforce on a global scale. This includes appointing a new Head of Global Powder Sales – as well as two sales resources based in Germany, to support your every material need.

Sandvik and BEAMIT present 3D printed super duplex to the market
Alongside our part-subsidiary the BEAMIT Group, we proudly announced a unique ability to additively manufacture super-duplex stainless steel – with components even outperforming traditionally manufactured counterparts. The parts printed in Osprey® 2507 – known and trusted for its excellent corrosion resistance and durability – are near fully dense (>99.9%) and crack-free, even before post processing.

Sandvik enters strategic partnership with Immensa Additive Manufacturing - advancing AM across the Middle East
We established a strategic partnership with Immensa Additive Manufacturing Group – the leading AM solution provider in the MENA region. Kristian Egeberg, President at Sandvik Additive Manufacturing said: "Through Sandvik's 158 years of materials knowledge, and our strong expertise across the additive value chain – from metal powder to finished components – we look forward to help drive the implementation of additive manufacturing across a number of industries in the area."
BEAMIT acquired 3T Additive Manufacturing – creating Europe's most advanced AM service provider
The BEAMIT Group acquired 3T Additive Manufacturing from AM GLOBAL, to continue the integration and industrialization of the additive manufacturing value chain for serial production of high-end components for the most demanding industries. Through the acquisition, BEAMIT became one of the most integrated and advanced AM service providers in the world.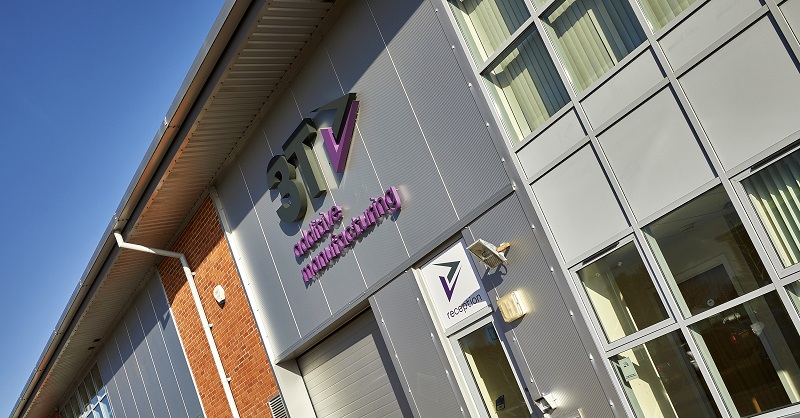 New webinar: Super duplex and 3D printing – a gamechanger offshore
In May, we aired another highly anticipated episode of our own interactive webinar series Additive By Sandvik: Material Matters. This time, our focus was additively manufactured super-duplex stainless steel – considered a true gamechanger offshore. The episode featured our leading experts, strategic partners and end-users alike, to provide the most extensive picture – and has been viewed by more than 150 000 people to date.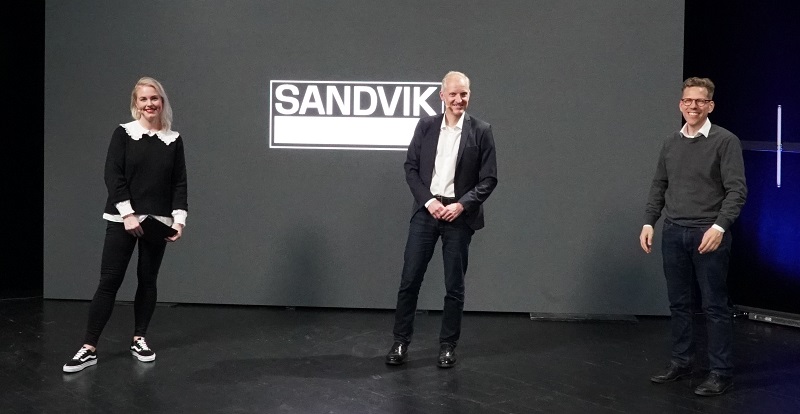 Sandvik entered a five-year agreement with Mid Sweden University
We signed a partnership agreement with Mid Sweden University, focusing on super-duplex stainless steel processed by electron beam melting (EBM). Mikael Schuisky, VP and Head of Additive Manufacturing at Sandvik, said:
"We are very much looking forward to collaborating with Mid Sweden University who are highly experienced in electron beam melting, and especially so since we will be focusing on super-duplex stainless steel – which is a flagship alloy group for Sandvik."
Avio Aero, BEAMIT Group and GE Additive signed letter of intent
BEAMIT Group, Avio Aero and GE Additive signed a letter of intent regarding a strategic collaboration agreement – meaning BEAMIT continue their advancements in the industrialization of metal AM in the aerospace segment.
Sandvik and BEAMIT returned to Formnext
Yet again alongside the BEAMIT Group – now also including 3T Additive Manufacturing – we returned to Frankfurt for the world-leading additive manufacturing event of Formnext 2021. On site in Germany, we showcased the latest news from our joint offering along the additive value chain, made even stronger by the latest acquisitions, product releases, and further increases in metal powder capacity. A major focus was also directed to our offering of Osprey® titanium powder – atomized and customized in-house at the state-of-the-art plant in Sandviken, Sweden.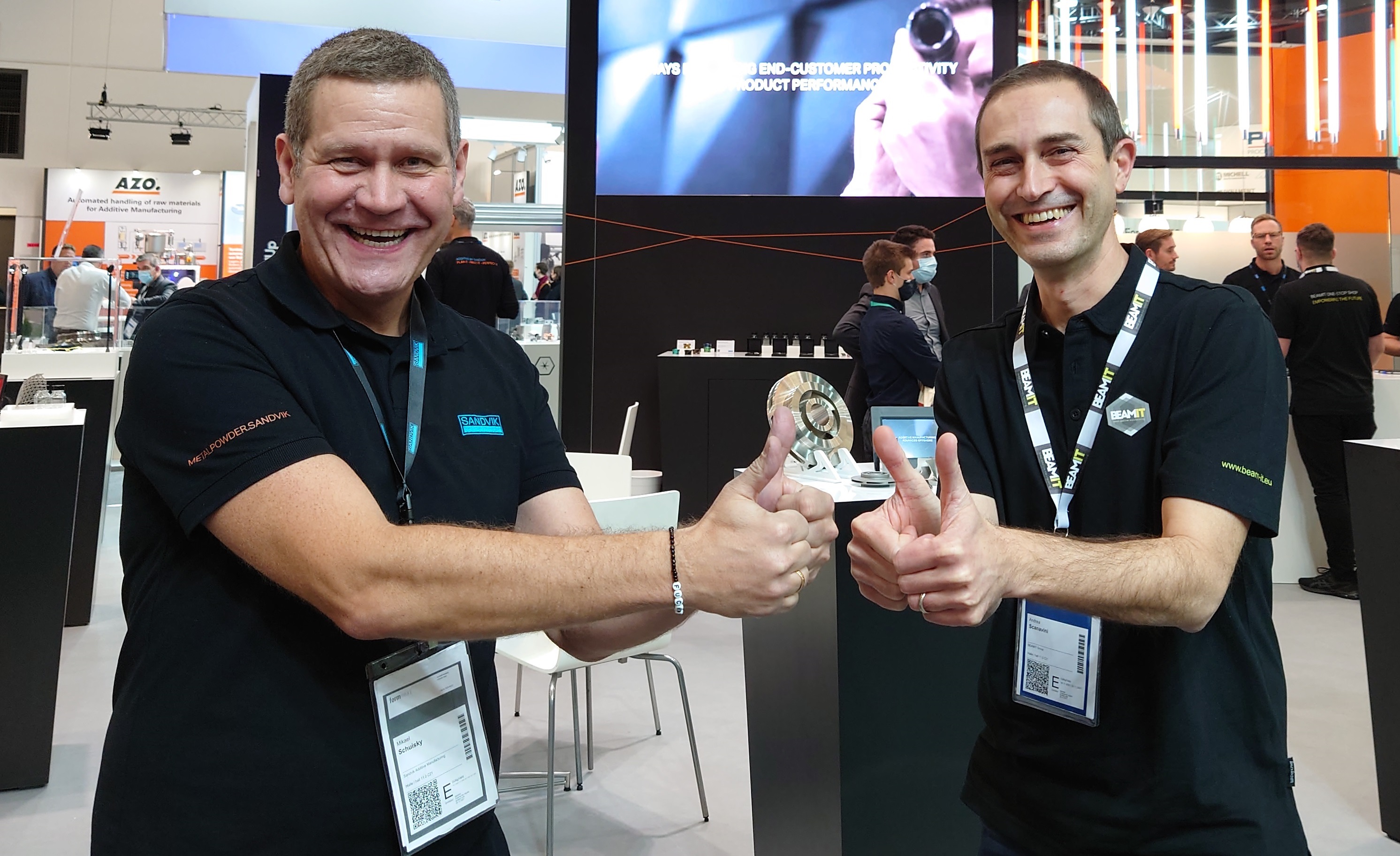 Thanks for an eventful year – and season's greetings!
We'd like to sincerely thank each and every one of you for making all our accomplishments throughout 2021 possible. We are truly honored being on this journey to industrialize additive manufacturing together with you, and excited to make 2022 a year of even more groundbreaking innovation. Before taking some well-earned time off with near and dear ones, don't forget you can always follow and connect with us on social media. Until next time, please take care and stay safe.
HAPPY HOLIDAYS!
Kind regards,
The team at Sandvik Additive Manufacturing